Great Whale Cay, Berry Islands, the Bahamas
735.92 Acres Bankruptcy Sale. Offers Encouraged!
THE ISLAND'S EXTRAORDINARY VALUE
Over a seven (7) year period, the existing owner has methodically consolidated ownership of the island to make it available for development or sale. The repurchase of most of the land, island improvements, and changes to the CC&R's were designed to improve the ease with which the island could be sold or developed by future developers. This provides the new owner with over 90% of the island by direct land ownership and 100% control to enforce reasonable restrictions on current and future development of the island. Deed restrictions on the other lots and remaining homes allow for a Master Development or design criteria to be stipulated by the current owner for the entire island. This uniformity of architectural controls represents tremendous additional value, allowing the developer and/or the new owner to control design criteria and land planning issues comprehensively. This also mitigates product risk in terms of product level and exclusivity.
The current owner has fee simple ownership, Title Insurance via First American Title Company and registered Covenants, Conditions and Restrictions.
Previous approvals were granted by the Bahamian Government to include commercial operations, airstrip, marina, hotel and communal parks, resort homes and related facilities such as tennis courts, restaurant, swimming pool and 155 platted and approved, ready to build, individual ±1 acre home sites. The current owner has also obtained the expert advice of four highly respected firms specializing in land planning: EDSA, Wood & Partners Inc., Hart Howerton and Lane Pettigrew Associates.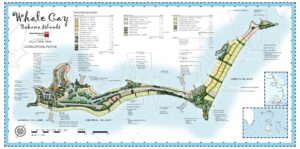 GREAT WHALE CAY
Great Whale Cay spans 850 acres of lush, ecologically unspoiled land with elevations reaching up to 60' and miles of extraordinary white sand beaches. The island is surrounded by shallow flats, coral reefs and deep water. Located at the tongue of the ocean, the island boasts some of the best fishing and diving in the Caribbean.
Great Whale Cay is a unique island with extraordinary natural beauty that illicits a sensory response from every vista.
A tropical version of the Garden of Eden, Great Whale Cay benefited from the 1 930's through 1970's from its wealthy owner, Marion Carstairs. The existing vegetation was greatly enhanced as more hibiscus, oleander, bougainvillea, and palm trees were planted as part of Carstairs plan. The industrious efforts of Carstairs and her crew resulted in miles of roadways that serve today as an extraordinary trail through the history of a wealthy eccentric – and a trail around a pristine island. In addition to interesting structures, lush tropical vegetation, and an ideal climate, there are fabulous stories about Carstairs "The Queen of Whale Cay" who ruled her island for over 40 years.
FISHING AND YACHTING
Boating from Fort Lauderdale or Nassau – Whale Cay sits 32 miles from Nassau and 150 miles from South Florida. This translates into an approximate 1 hour boat ride from Nassau and 5-6 hour ride from South Florida.
Located less than a mile off the southern tip of Whale Cay, lies some of the finest "offshore" fishing in the world, The Tongue of the Ocean. World Famous Chub Cay is only one mile to the west of Whale Cay.
Visit https://www.chubcay.com/fishingreport for the latest fishing report.
AIRPORT
The airport runway is currently 4,000' with the capability of being extended
to over 5,000 ft. Hangars can be provided for privately owned planes.
Direct charter and private flights – The 4,000 foot airstrip at Whale Cay is capable of handling small jets, most single and twin engine piston and turbo prop aircraft. Flight time from Nassau to Whale Cay is approximately 10 minutes. Flight time from Fort Lauderdale is approximately 45 minutes.
Flights from Fort Lauderdale and other locations outside the Bahamas currently stop at adjacent Chub Cay to clear immigration and customs.
BERRY ISLANDS
Dear to the hearts of yachtsmen and fishermen, 60 miles southeast of Bimini and 30 miles northwest of Nassau, is a cluster of 30 islands and close to 100 cays known as The Berry Islands. Here, you will find magical harbors and swim-ashore beaches decked with green and fringed with drifts of sand.
These cays rest on the eastern edge of the Great Bahama Bank, starting with Great Stirrup to the north and extending to Great Whale Cay to the south. The Berry Islands are said to be the best kept secret of the Bahamas. There are said to be more millionaires here per square mile than most places on earth.
NASSAU
Nassau is within an hour boat ride or a short 10-minute flight. Nassau offers an International Airport with flights arriving from around the world, World Class cuisine, duty free shopping, championship golf courses, and Casinos. Ft. Lauderdale and Miami are accessible via a 20 minute flight. The islands' main attractions are seclusion, privacy, natural amenities such as fishing, diving, bird watching, kayaking, nature trails, beaches, shelling, and for more diversions there is easy accessibility to the U.S. and Nassau.
Contact Form
We would love to hear from you! Please fill out this form and we will get in touch with you shortly.
Property Details
Price: Accepting Offers
Country: Bahamas
Island: Great Whale Cay

Acres: 735
Status: Active
Contact Us About This Property