Our Story
Intrasouth Real Estate Advisory Services LLC, a licensed Florida Real Estate Brokerage Company, was formed in 2005 by its founder Jerry Lewless having spent his professional career leading sales and marketing efforts for public traded resort developers in the USA and the Bahamas. Initially formed as a real estate development and brokerage firm in Orlando, Florida, it has expanded into a full service operation specializing in maximizing revenue for residential and mixed-use real estate projects. Today, we have a new vision: allow our clients to leverage our extensive knowledge of the real estate markets in Florida, Mexico and the Bahamas to maximize their investment returns while achieving the ownership goals they have set for themselves and their families. We are a purveyor of lifestyles.
Specialties: strategic planning and execution of real estate business structures necessary to maximize our clients' return on investment focusing strongly on yield management with an emphasis on sales, marketing, market data and acquisitions.
Our strong legal, accounting and development relationships in our core markets mitigates our clients' risk and shortens the learning curve, allowing for higher yields combined with seamless transactions in an acceptable time frame.
Real Estate is local in nature and often complicated, so let us do the vetting for you.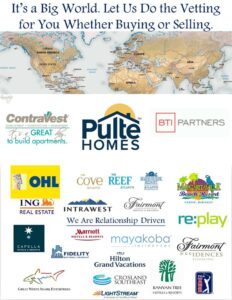 Industry Leader
Intrasouth comprises three distinct business units which are highly respected in their fields.
1. Exclusively representing Seekers and Sellers of Luxury Residences in Florida, the Bahamas and Mexico.
Our international luxury resort experience has not gone unnoticed by our peers. With more than $100,000,000USD contracted on behalf of our clients in 2021, our goal is double our successes in 2022!
In 2020 we were honored to be invited to become a member of one of the world's most prestigious luxury real estate groups,

Global. Realm Global
REALM allows us to provide our buyers and sellers of luxury real estate direct access to an exclusive list of agents and their clients not found on the MLS.
REALM is the first globally collaborative real estate collective to be built around the unique lifestyles and personal interests of each client. A curated luxury lifestyle platform that collects, secures, and repositions client data to improve the holistic real estate experience—for each individual real estate professional and their collective client base. The REALM membership experience comprises the world's most trusted and respected real estate professionals.
REALM leverages the collaborative insight of those professionals globally to match qualified buyers to properties.
2. Implementing and Executing Sales and Marketing Plans for Luxury Resort Developers in Mexico and the Bahamas.
During the last 15 years the firm has developed, brokered or managed more than $750,000,000USD in real estate transactions while managing more than $1.5 billion in assets in the USA, Bahamas and Mexico while building powerful alliances with strategic partners in these markets. With present and past clients including Banyan Tree Resorts and Hotels, Rosewood Resorts and Hotels, Fairmont Residences, Margaritaville Residences, Oil Nut Bay, Kakona and Jack's Bay Club, our team is qualified to facilitate successful international real estate transactions.
While Intrasouth Real Estate Advisory Services has received numerous accolades from its clients and peers. Two of its projects, Fairmont Shock Hill and Banyan Tree Mayakoba, appeared on the cover of The Robb Report Collection January 2009 edition—a major milestone in the firm's history.
Current Projects:
Completed Projects:
3. Development Land Acquisition
Our firm is an "in house" consultant to Pulte Homes' largest division in the United States, based in Orlando, Florida. We focus on the Central and West Florida markets, leveraging our relationships and experience to bring in high quality large scale and mixed-use future developments.
Three of our long-term relationships:
Our Mission
To provide our clients with an unrivaled level of service through a guidance based understanding of their true goals for the present and future.
Our Vision and Values
Ethics and Integrity
Teamwork and Involvement
Continuous Improvement
Communication
Customer Focus
Quality of Life for Team Members
Giving Back
As a member of the Rotary Club of East Nassau, the Bahamas, we are constantly contributing to those in need both locally and abroad.